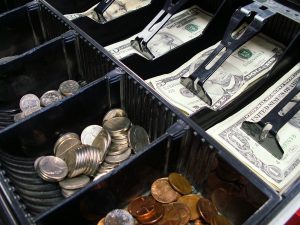 I don't mean random customers stealing a shirt; I mean an employee stealing your money?
The embezzler is probably not who you'd think they are. I know I was surprised to read that on average they are primarily women, around the age of 47 and have worked for you between 1-5 years. Also, approximately 41.5% of perpetrators worked in the accounting and finance department – just the people you need and want to trust the most. They will also seem like your most dedicated employees, wanting to understand how everything works, details on procedures and who has access to what information and systems.
The median loss per embezzlement is $145,000, but for companies with less than 100 employees the median jumps to $155,000. Larger companies typically have various departments, so one person doesn't touch a transaction from beginning to end.
There are simple ways they can steal. Using the corporate credit card or corporate business accounts to purchase personal items while purchasing items for work. Then moving to using the credit card to purchase items just for them or paying for meals and entertainment.
Then they may move onto setting up new "vendors" so they can create fake invoices and pay those invoices (to themselves). Some embezzlers may go so far as to setup a fake employee or add overtime to their pay.
This does not mean that you can't have employees or that you have to perform all tasks yourself. There are ways to protect yourself. First step is to do a background check on all employees, including a credit check for people working in sales, accounting and finance. This would give you an idea of how over leveraged they are in their personal life.
Once you actually hire the employee it's important to segregate duties, keeping key areas away from one singular person. For example, your accounts payable person should not be able to set up a new vendor, enter and approve invoices in your system, cut checks and sign them. It's important to keep a couple of these areas separate. For really small companies, it could be as simple as you signing the check – you know what vendors you use and approximate how much you've spent with them. For larger companies, you may need the individual who requested the item be purchased to sign off on the invoice stating they received everything they ordered and this invoice is "O.K." to pay.
Don't be afraid to question a vendor you haven't seen before.
Don't be afraid to question charges on a credit card statement or expense report.
If you ask very casually and simply, then an honest employee should not appear nervous to answer at all. Now, keep in mind, if you start acting like you're interrogating any employee, whether they are guilty or not, they may appear nervous, so be aware of your tone when speaking to your employees.
On a monthly basis, while reviewing your P&L statements, review expense categories that suddenly jump up, like office supplies doubling or meals and entertainment expenses are totally out of whack, landscaping expenses seem extremely high and you didn't have any additional work completed. This will help with any expenses that an embezzler is trying to hide. It will also help you with expense control if suddenly you're spending more money or perhaps vendors raised prices without your knowledge.
Lastly, make sure all your employees take vacation time. And I'm not talking about one day here and there, but a week or two. If employees seem afraid to take vacation they could be hiding something and could be afraid that they aren't there to hide expenses or invoices that come through while they are gone. Kind of like me always wanting to be home on delivery days when my packages show up.
Splitting up duties to protect yourself isn't difficult. And fear of embezzlement shouldn't keep you from hiring employees you need to grow your business. Background check, segregation of duties, vacation time and frankly, following your gut will help keep your business safe. Of course, if you want a second opinion, ask your fellow small business owners, your accountant or a small business consultant to help evaluate your vulnerabilities.
Sources and other articles:
https://www.inc.com/kevin-kerridge/most-employee-theft-happens-at-small-companies-warning-signs-3-ways-to-stop-it.html?cid=sf01001&sr_share=twitter
https://quickbooks.intuit.com/r/trends-stats/fraud-statistics-every-business-should-know/
https://www.acfe.com/article.aspx?id=4294976289