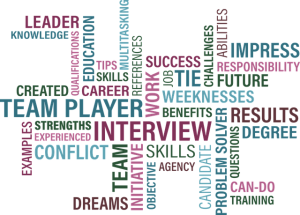 Hate hiring new employees? Not sure what questions to ask to ensure the candidate will be a good fit for your company? I've been interviewing and hiring employees for over 20 years in entry level, supervisory and director positions. What I've learned is that past jobs don't equate to success to a new job. Behaviors, skills and attitudes do. Of course, if you're hiring a doctor or a pilot, then they need very specific training, but for the rest of us it may be more important to focus on attitudes towards teamwork, the ability to think critically and adapt to change.
What is behavioral interviewing? The concept that past behaviors and outcomes are a more accurate prediction of future outcomes. It's more than just asking open ended questions, it's about investigating to determine someone's mindset.
First, be sure that you understand what you're looking for in a new employee. What are the required duties? Is there a base educational or previous work experience requirement? What attitudes or skills are necessary? What knowledge does an employee already need to have versus what can you, and are you, willing to teach them?
Second, write open ended questions in advance that require a candidate to explain a situation, what action they took and what the outcome was. This is important to keep you on track and make sure you cover all aspects of the job you're hiring for such as customer service, decision making, prioritization of duties. It's also important as you interview multiple people to ensure you are comparing the candidates based on the same set of questions.
When a candidate comes in for the interview, introduce yourself and your title. Ask a few questions about their job history perhaps gaps in employment or reasons for leaving. Do not start giving to much information about the company or the job they are interviewing for – you will very likely give them clues on how you want them to answer the interview questions.
For example, if you say we pride ourselves on customer service and getting back to our customers within 8 business hours and then ask a question on customer service and how they best communicate, if they were paying attention, they most likely will echo you back.
To warm up the interview, ask the candidate what attracted them to the company or the particular job. Share with them, how long you've been at the company and what your overall responsibilities are. Don't go over the job description, they should have done their homework in advance if they really want the job.
Then begin asking your questions. Below are a few examples.
Initiative: Describe a time when you were unmotivated to get a job done. How did you complete the project?
Teamwork: Give an example of when you had to work with someone who was difficult to get along with. Why was this person difficult? How did you handle interactions with that person?
Planning and organization: Describe a time at work where you had to juggle several projects at the same time. How did you organize your time?
Customer service: Tell me about a recent situation in which you had to deal with a very upset customer or client. Were you able to retain their business?
Adaptability / problem solving: Recall a time from your work experience when your manager or supervisor was unavailable when a problem arose. What was the nature of the problem? How did you handle that situation? How did that make you feel?
Make sure you take notes while the candidate is talking. What action did the candidate take? How did they handle the situation? Did they achieve the outcome they wanted? If the outcome wasn't what they hoped it would be, then follow up with what they learned from that experience and what they would change in the future.
One of my favorite questions and typically the one I ask last is, what do you expect from your manager? The answer is really based on you or whoever the candidate will be reporting to. If you're hiring for a micro manager, then don't hire someone that thrives on autonomy. On the other hand, if you have a macro manager that is there to simply support and randomly check-in, don't hire someone that needs a lot of guidance or encouragement.
Towards the end of the interview you can either give more information about the company and the job or simply ask the candidate what questions they have and see if they are interested or if they did any homework before the interview.
In my experience, you can teach employees how to perform the job you are hiring them for. You cannot however change their work ethic or their ability to learn and change. Questions? Contact me at sharice@CreativeBiznessSolutions.com.